On-site maintenance at the customer to ensure the production
(人气:)
来源:
作者:admin
发布时间:2018-08-24 16:10
Recently, our customers have stopped production due to hydraulic machine failure. We responded immediately and went to the repair. Through our cooperation, the development of our customers has been guaranteed.
Jinan Quanyue CNC.
recently visited JINAN 3F FLUORO.CHEMICAL Co.,Ltd, and the secretary of the party committee LiShen comrade in-depth communication about products: anhydrous hydrogen fluoride, four fluoride, fluorine refrigerant market quotation and equipment YB32-500 tons of
four column hydraulic press
in production operation and maintenance situation.
Quanyue computer numerical control four column hydraulic product sales have been to industry as the breakthrough point, get the three love rich fluorine chemical industry company Li Shen secretarial support many times, to gradually understand the chemical industry for four column hydraulic press the application requirement. Found at the company on May 10, 2012 when the production of hydraulic press work appeared system fault, the operation staff Wang for hydraulic system multiple cleaning, slipper still cannot return; In order to partner units of production efficiency, we received a phone call, Liu Gong immediately organization's drive to three love rich fluorine chemical industry company production base. In the inquiry after maintenance after commissioning, in view of the hydraulic principle diagram and data traffic one; Fault point finally find and after handling equipment and into the production process.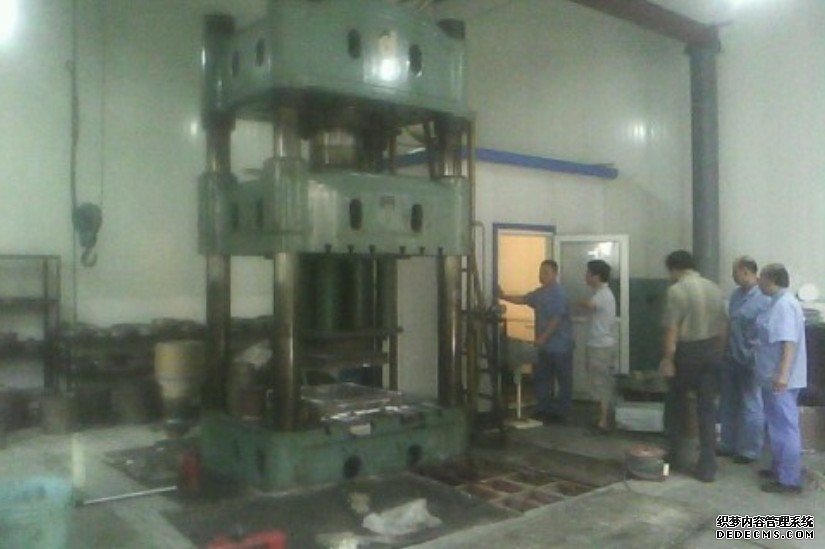 Heart shape the image by heart, deductive commitment by heart, keep the customer, we have been efforts, the subsequent we will work with three love rich fluorine chemical industry company's colleagues, to advance together, in order to improve the productivity, in view of the present use part of automation equipment upgrading, for the development of the partners to escort.
The profile of JINAN 3F FLUORO.CHEMICAL Co.,LTD.Its predecessor for Jinan chemical plant, founded in 1914, is China's earliest fluorine chemical production bases, which consists of eight branches and independent legal entity. The company sticks to the quality of fluorine products and develop the market, with sincere service to be trusted by the user. "Deer" brand product embodies a kind of friendly, trust, endless spirit. The company has three main products, anhydrous hydrogen fluoride is the only one of the products obtained national product quality gold medal products, tetrafluoroethylene won the national scientific and technological progress first prize, the quality of products in the same industry in a leading level, fluorine refrigerant - and with its new technology, make sure the product yield and quality in the industry leading position. Also engaged in fep, dispersion teflon, industrial hydrochloric acid and other products production, and its products in domestic users rely on deep foundation, they have been sold at home and abroad in the United States, Brazil, South Korea, Iran, Japan, Thailand, Hong Kong and many other countries and regions, the company is the fluorine silicon of standing director unit, the customs of the People's Republic "class A enterprise", in May 2001, passed the ISO - 9002 quality system international standard authentication.
Jinan Quanyue Computer Numerical Control Co. LTD
You might be interested
3000mm ring forging production line;Jinan Quanyue CNC. is a supplier of equipment in the field of ring parts .It provides forging hydraulic presses, ring rollin......

[more]

The development of Jinan Quanyue computer numerical control benefit from MaANSHAN LEE INDUSTRIAL CO. LTD, under the leadership of the trust and strongly support......

[more]